Billion Dollar Listing: The New Real Estate Unicorns
Move over Zillow–the newest crop of real estate tech companies has arrived. With over $8 billion in funding among them, WeWork, Opendoor, and Compass are operating on a different scale than any of their predecessors.
VCs have long loved pure software businesses like Trulia, a real estate search engine which went public in 2012.
Trulia's business model is simple: it scrapes feeds of properties for sale, packages them into a user-friendly website, and makes money by letting real estate agents advertise their services to prospective homeowners. Trulia avoided buying buildings or employing agents directly. Scaling up was just a matter of adding more servers.
But today's real estate unicorns aren't just about software. They look like more traditional real estate businesses infused with a healthy dose of technology.
Compass, a tech-enabled real estate brokerage headquartered in New York, recently raised $450M from Softbank at a $2.2B valuation. Compass is basically a high-end, tech-driven Coldwell Banker, and employs over 2500 real estate agents directly.
Opendoor is a tech-enabled real estate investor based in SF. They use data science to figure out what homes to buy and at what price. They pay up-front and then flip the homes at a profit. We estimate that they're buying and selling over 10,000 homes annually
VCs are paying far more attention to these businesses now. Compass and Opendoor, both already
s, have collectively raised over $1B in equity from investors.
The total amount raised is even more staggering if you count the co-working space giant WeWork: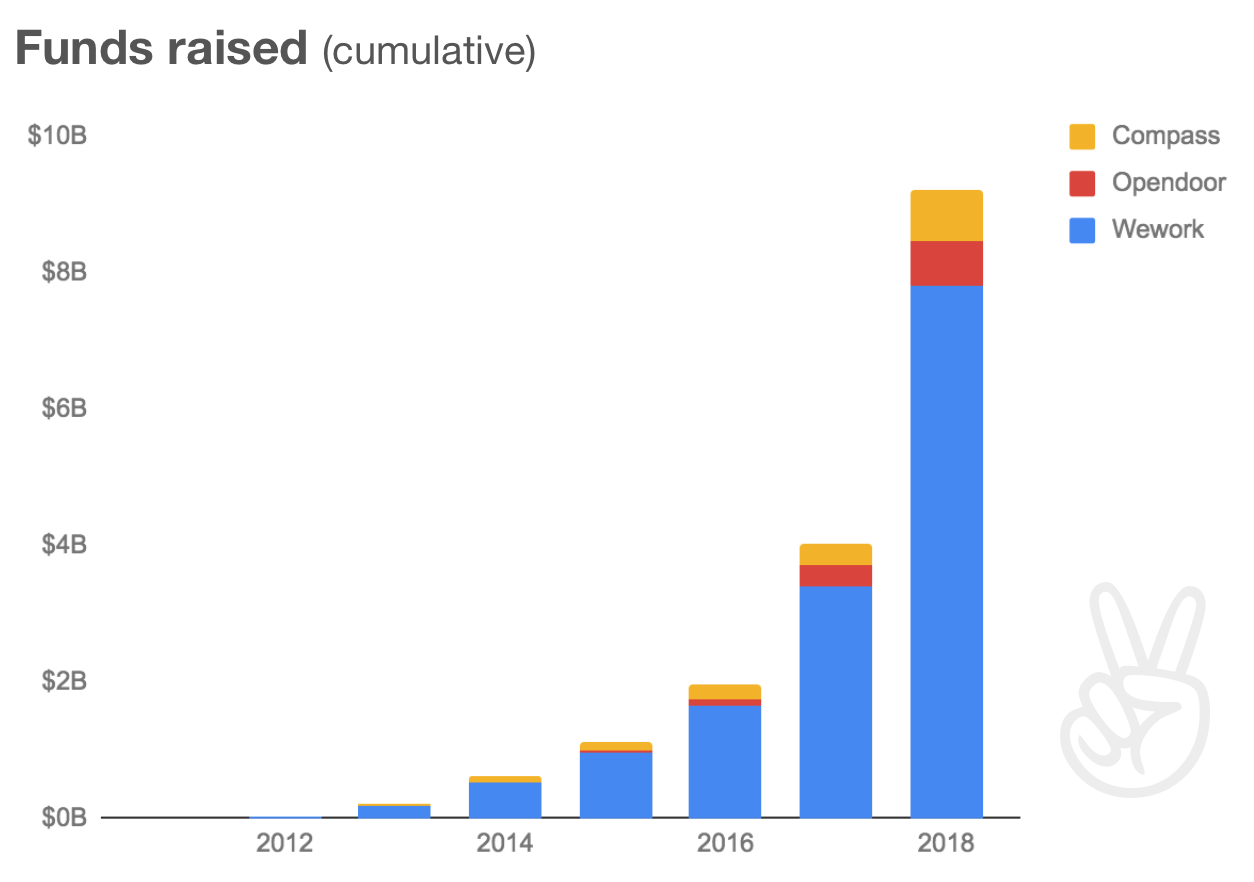 Public market investors don't seem to share the same confidence in the Opendoor approach. Earlier this year, Zillow announced it was getting into the business of flipping homes, marking a shift in business model. Investors were unenthused, and Zillow's stock price dropped by 9%.
But with forward-thinking investors like Softbank supporting these new hybrid business models, this trend is sure to continue across other industries. Real estate is just the beginning