Call for Nomination: 2020 UNESCO International Literary Prize for Innovation in Literacy.
Application Deadline:July 12th 2020(midnight, Paris time).
UNESCO has now opened its call for applications and nominations for the 2020 UNESCO International Literacy Prizes. This year UNESCO will reward five individuals or organizations around the world for their outstanding projects that promote literacy within the theme 'Teaching and learning literacy: the role of educators and changing pedagogies'.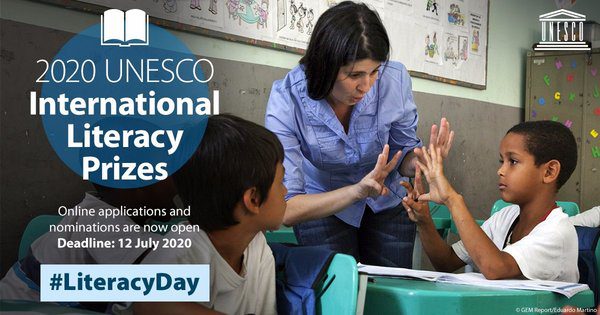 This year's thematic focus is highlighting teachers who are at the frontline of delivering literacy learning, and their contribution to promoting youth and adult literacy, linked to target 4.6 of the Sustainable Development Goal on Education (SDG4), where literacy is perceived as a continuum developed throughout life.
Since 1967, the UNESCO International Literacy Prizes have rewarded excellence and innovation in the field of literacy. Over 495 projects and programmes around the world have already received recognition and support for their excellent work.
Requirements

Governments, non-governmental organizations and individuals who promote literacy through projects and programmes are welcome to apply. All applications should be submitted to nominating entities, such as the National Commission for UNESCO in the country of the programme, or an NGO that is in an official partnership with UNESCO.
Candidates can submit their applications through the online platform. Details about the application and nomination process are on the UNESCO International Literacy Prizes' website.
National Commissions and non-governmental organizations (NGOs) in official partnership with UNESCO are encouraged to nominate individuals, institutions and organizations who are making outstanding contributions to promoting literacy and who request a nomination.
Application Procedure

Deadline for candidates to submit applications to nominating entities: 28 June 2020 (midnight, Paris time).
Deadline for nominating entities to submit their nominations to UNESCO: 12 July 2020 (midnight, Paris time).
The nominations will be assessed by an independent International Jury, composed of five experts on the basis of the selection criteria. Based on the recommendations of the International Jury, the Director-General of UNESCO will select the finalists to be awarded at the occasion of International Literacy Day (8 September).
For More Information:
Visit the Official Webpage of the 2020 UNESCO International Literary Prize