Corporate America's Big, Fat Profitable Year – CNN
Corporate America caught fire in 2017, hauling in fatter profits than ever before.
The lucrative year for big business, fueled by resurgent economic growth at home and abroad, helped spark a powerful stock market boom on Wall Street.
S&P 500 earnings per share are projected to have jumped by 9.5% in 2017, according to FactSet. That would be the fastest pace since 2011.
Even better, S&P 500 companies are expected to bring in record profit this year, according to S&P Dow Jones Indices.
"Profits are the story of the year. I believe this bull market has a little more gas left in it," said John Lynch, chief investment strategist at LPL Financial.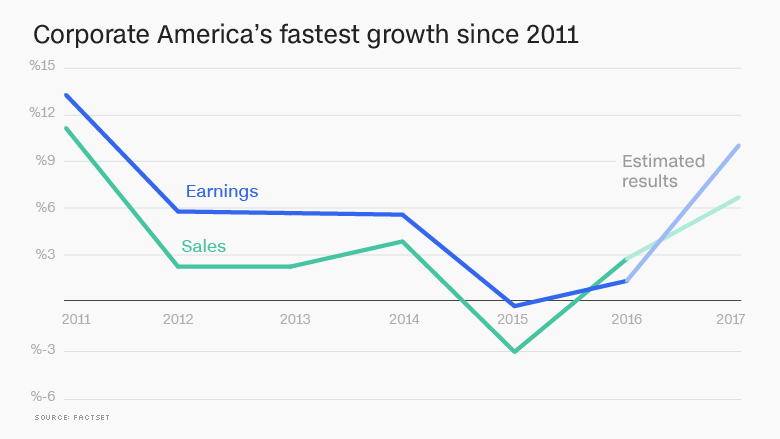 Companies could rake in even more money in 2018 thanks to an overhaul of the tax code that dramatically cuts what they owe Uncle Sam.
Yet 2017's profit growth wasn't really driven by Washington, nor was it all based on cutting costs. Strong sales show that the stellar performance was driven mostly by "good old home-cooking fundamentals: growth domestically and globally," Lynch said.
Consider that for the first time in three years, the U.S. economy grew at 3% for back-to-back quarters. Unemployment plunged to a 17-year low and confidence among consumers and businesses is roaring.
Related: Why now's not the time for expensive tax cuts
Tellingly, global companies enjoyed even better years. Companies that generate most of their sales outside the U.S. grew earnings twice as fast as those focused domestically, according to FactSet.
Clearly, companies cashed in on newfound economic strength in Europe and Latin America as well as relative stability in China. For the first time in years, virtually all major global economies are growing at the same time.
"During 2017, the global synchronized recovery turned into a global synchronized boom that is likely to continue in 2018," Ed Yardeni, president of investment advisory Yardeni Research, wrote in a report.
Another key: the U.S. dollar lost a lot of steam this year. A weaker greenback makes U.S. products cheaper for foreign buyers.
Against that backdrop, companies continued to refill their coffers. Non-financial U.S. companies are sitting on an estimated $1.9 trillion in cash, more than doubling their 2008 totals, according to Moody's.
Earnings are the engine that power stock prices, so clearly their steady ascent played a key role in Wall Street's blockbuster year. The market value of the S&P 500 surged by nearly $4 trillion in 2017.
Some of 2017's most fantastic winners like Boeing (BA), Netflix (NFLX) and Caterpillar (CAT) are enjoying rapid earnings growth right now.
Related: The year tech took a dark turn
Yet it's also fair to say that President Trump's promises to overhaul the tax code, cut regulation and ramp up infrastructure spending have helped unleash the animal spirits of the business world.
That excitement explains why the stock market has leaped ahead of corporate profits. The S&P 500 is up about 20% in 2017, double this year's projected profit growth.
That "rapid run" suggests most of the rally has been linked to expectations of policy changes, said Kristina Hooper, chief global market strategist at Invesco.
Looking ahead, both corporate profits and the stock market are expected to keep going up. The tax overhaul could provide a significant boost to the bull market, which at nearly nine years old is the second-longest in history.
"The stars have never been more aligned for equities," said Joe Quinlan, market strategist at Bank of America's U.S. Trust division.
One potential obstacle: By injecting a healthy economy with unneeded tax cuts for businesses, inflation may rear its ugly head and force the Federal Reserve to speed up interest rate hikes.
"The biggest risk to me is monetary policy gets hawkish and rattles capital markets," said Hooper.
Related: Will companies spend tax savings to create jobs?
For workers, the real question is whether companies will use their tax windfall to share the winnings with employees and expand their businesses.
After Congress passed the tax legislation, AT&T (T) and Comcast (CMCSA) unveiled plans to give employees a one-time $1,000 bonus. (AT&T is trying to buy CNN owner Time Warner (TWX)). Wells Fargo (WFC), one of the biggest expected winners from the tax plan, announced an 11% boost to its minimum wage.
"For the first day, I thought that was impressive. It makes me hopeful about the potential for the tax bill" to boost business spending, said Hooper.
Yet those employee rewards represent just a fraction of the tax bonanza for major companies. And it remains to be seen how many more will decide to share the wealth with workers.
It's a big deal because wage growth has been disappointing for years, leaving many Americans feeling left out of the recovery and lifting the country's wealth inequality gap to record levels.
"If the wealth and inequality gap grows, it negatively impacts all of corporate America. That is really the vexing issue," said Hooper.
Matt Egan is a senior writer on CNNMoney's markets and investing team. He covers Wall Street, banks, the stock market, energy and finance broadly. Egan also tweets throughout the day on the latest market moves @MattMEgan5. He's been with CNNMoney since 2014 and previously was a senior reporter at FOXBusiness.com, as well as a staff writer at the Trenton Times. Egan lives in New Jersey and graduated from The College of New Jersey.