#TokyoOlympics: Japan top medals table on Day 5 while Team Nigeria cannot find a winning kick!
Japan tops the medals table of the Tokyo Olympics at the end of day five with 13 gold medals, 4 silver and 5 bronze medals. China follows closely with 12 gold, 6 silver and 9 bronze medals while the United States follows third with 11 gold, 11 silver and 9 bronze medals. ROC is fourth with 7 gold medals and Australia is fifth with 6 gold medals.
Nigeria on the other is yet to find its feet at the games as the athletes are losing to all their opponents. On Wednesday Team Nigeria basketball team lost to Germany in the Men's preliminary round group B. In swimming, 17-year old Ogunbanwon could not qualify despite setting a national swimming record for Nigeria. Though She won her heat in the women's 100 meters freestyle ahead of Andela Antunovic of Montenegro, unfortunately her winning time fell short of the best 16 times that progressed into the semi-final
On Wednesday, Day five, the beautiful nation of Fiji won only its second Olympic gold medal, both in the country's national sport, rugby sevens. There are now 25 Fijians from those two teams who have won a gold medal and now become a signpost to what is possible.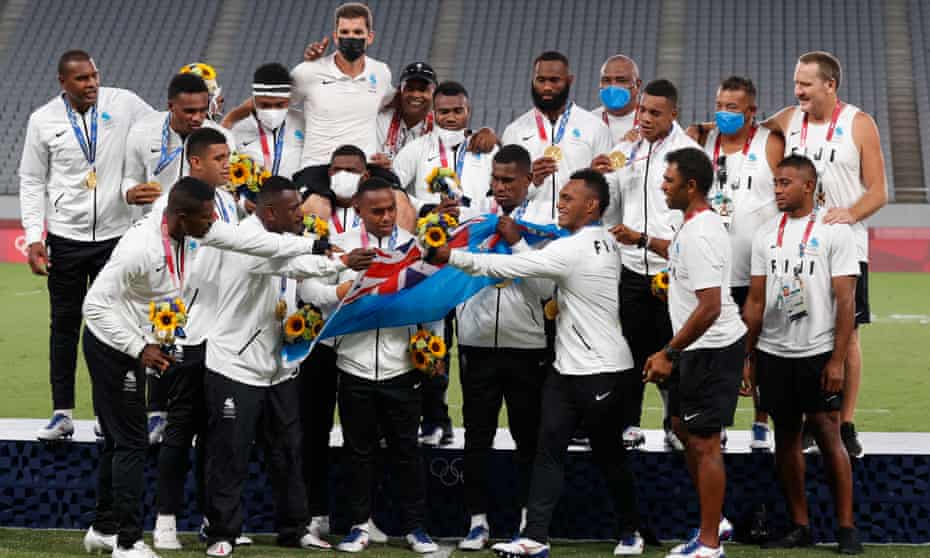 Estonia have been crowned the women's epee team Olympic champions after defeating Italy 36-32 in the final at the Tokyo Games
Bermuda, with a population of 63,000, is also the "smallest nation or territory to win an Olympic gold medal," 
The win by Duffy, who trains in Boulder, Colorado, marks only the Olympic second medal ever for Bermuda, after boxer Clarence Hill won bronze at the 1976 Montreal Games.
The 33-year-old double triathlon world champion finished the swimming, cycling and running course in 1 hour, 55:36 minutes — over a minute and 14 seconds ahead of Great Britain's Georgia Taylor-Brown, who won silver. Team USA's Katie Zaferes won bronze.
In all, a total of 56 countries have won medals at the games as at day five with Team USA having the most medals with a total haul of 31 medals made up of 11 gold, 11 silver and 9 bronze medals.
There are four African countries now on the medals table Tunisia, Egypt, Cote divoire and South Africa
Nigeria's chances of winning medals at the games was dealt a blow today with the declaration of 10 of the athletes representing the country as ineligible to compete.
A statement from the Athletics Integrity Unit (AIU), an independent body created by World Athletics that manages all integrity issues – both doping and non-doping – revealed that a total of 18 athletes have been declared ineligible with ten coming from Nigeria.
Their disqualification arose from their inability to meet Rule 15 of the IOC on anti doping. The rule sets out minimum requirements for testing for the national teams of 'Category A' federations deemed to have the highest doping risk and considered as a threat to the overall integrity of the sport.
The key requirement in Rule 15 is that an athlete from a 'Category A' country must undergo at least three no-notice out-of-competition tests (urine and blood) conducted no less than three weeks apart in the 10 months leading up to a major event. Only then do they become eligible to represent their national team at the World Athletics Championships or the Olympic Games.
The seven identified 'Category A' National Federations affected by this rule are Belarus, Bahrain, Ethiopia, Kenya, Morocco, Nigeria, and Ukraine. Apparently, the The Athletics Federation of Nigeria did not do its job, thus bringing disrepute to the athletes and to the country over this.