African countries pay the price for the current global trade war [Business Africa]
African countries pay the price for the current global trade war [Business Africa]
 http://www.africanews.com/2018/07/19/african-countries-pay-the-price-for-the-current-global-trade-war-business-africa/
http://www.africanews.com/2018/07/19/african-countries-pay-the-price-for-the-current-global-trade-war-business-africa/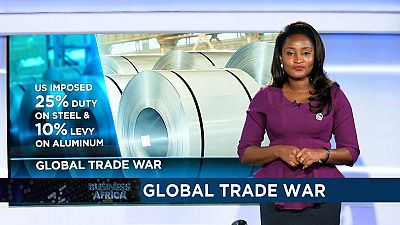 US-China trade war is much more than a fight between two world powers.
US imposed tariffs on imports from China, Europe and Canada has caused weakness across stock markets globally. But it also requires Africa to rethink its future economic growth path to mitigate the impact of unnecessary global trade war.
Nigeria, Kenya and South Africa's stock markets were largely impacted by Trump's protectionist wave. South Africa is concerned that the U.S. is considering a new wave of tariffs that could be extended to the auto industry, which is one of the cornerstones of country manufacturing.
Africanews