APPLY: WISE Accelerator Programme 2020 for Education Technology Projects (Fully Funded to Doha,Qatar)
Application Deadline:20 April 2020 at 16:00 GMT.
The WISE Accelerator supports innovative initiatives developing solutions in education technology with high potential for scalability and positive impact.
Each year, the selected initiatives join the one-year program, during which they benefit from tailor-made support to address challenges that hinder their growth and scaling up process. In addition, the WISE Accelerator assists the selected initiatives to connect with an international network of education stakeholders and create opportunities to share knowledge and find support among potential partners, donors and investors during international events organized by WISE.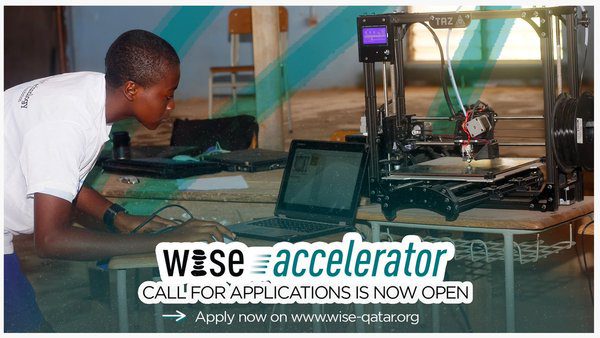 Finally, the selected initiatives will be matched with mentors who are experts in education, education technology and leaders in their field. Mentors will support the selected initiatives with advice, guidance and connections to different education and business stakeholders.
Benefits
As part of the program, the selected ventures will:
• Access a community of over 50 edtech founders from 18 countries who will share their learnings during bootcamps organized in three major cities from around the world including in Doha, Qatar.
• Interact with leaders in the government, for-profit and non-profit sector. Members of the community will help the selected founders understand new markets and provide them with appropriate advice.
• Participate in networking sessions with donors, investors and leaders of education organizations.
A dedicated team of experts will support the founders in:
• Marketing, sales and fund-raising in edtech.
• Building a narrative and positioning a venture as a thought leader within the education sector.
• Understanding markets that are crucial for their growth.
• Product strategy, technology roadmap and product build-out.
The WISE Accelerator team works closely with the selected founders to provide opportunities for visibility at WISE events and on WISE digital platforms. Channels for visibility that WISE provides may include:
• WISE Summit in Doha which convenes over 4,000 attendees from over 100 countries.
• WISE@ forums. Past editions were held in Paris, New York, Beijing, Tunis, Madrid and Accra.
• WISE social media platforms.
• WISE ed review, podcast and newsletter.
Requirements
Initiatives addressing education challenges through the use and/or design of technology in all sectors and regions are welcome to apply. Initiatives in this particular field may tackle education challenges in early childhood education, K-12, higher education or the future of work.
Applicants must meet the below requirements:
An education technology venture established for at least one year;
Existing beneficiaries or customers;
A product beyond Minimum Viable Product (MVP) stage
Existing revenues;
A dedicated team
Applications must satisfy the following requirements:
All applicants must complete, in English, the official online application form fully.

All applicants must submit a short 3 minutes video pitch by submitting a YouTube link. During the pitch, they must explain their edtech solution, the problem they are tackling, who their beneficiaries are, their traction so far and why they are applying for the WISE Accelerator.

All applicants must provide a link to a product demo via a YouTube link or log-in information for the WISE team to assess the product developed by the applicant.

The WISE team will invite shortlisted applicants to take part in an interview.
Selection Criteria
A Committee composed of leading experts in education and entrepreneurship will support the WISE Accelerator team in the selection process. The selected initiatives will be announced and join the WISE Accelerator in September 2020.
Applications will be assessed according to the following criteria:
The Team
The WISE team will assess the team's ability to execute and deliver on its vision.
The Solution
The WISE team will assess how well the solution developed by the initiative addresses the problem that the initiative aims to solve.
The Innovation
The WISE team will assess how innovative is the solution developed by the initiative in light of solutions developed worldwide in the edtech sector.
The educational impact
The WISE team will assess the potential of the educational impact that the initiative may have as it scales up
The Market
The WISE team will take into consideration the growth potential of the edtech market where the initiative operates
For More Information:

Visit the Official Webpage of the WISE Accelerator Programme 2020