Call for Applications: Global Citizen Academy Instructor
Application Deadline: Ongoing
An intensive leadership experience equipping 2020 high school graduates with powerful and practical skills for a lifetime of social impact
As an instructor, you will be part of a team that will launch our innovative and exciting new program, Global Citizen Academy. Instructors will teach one of two courses for a diverse group of recent high school graduates. Instructors will teach the course using Minerva's Forum learning platform, a web-based platform that supports real-time, synchronous seminars with high levels of student-faculty interaction. We are looking for individuals who have a growth mindset, are comfortable with technology, are passionate about developing young leaders, and have a student-focused approach to their facilitation.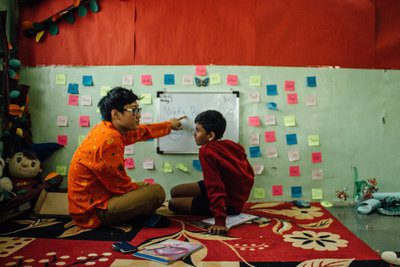 Responsibilities
Will average 10-12 hours per week. Times and days of the week vary depending on class schedule and will be discussed during the hiring process.
There will be three weeks of online training (6-10 hrs per week) focusing on Global Citizen Year, tech platform for the course, and the curriculum.
Complete all necessary prep work to deliver the Global Citizen Academy curriculum.
Teach one of the following two courses:
Systems & Society: Explore the complex relationships between human behavior, group dynamics, and society. (90 min 19 student section, twice per week)
Leadership As A Practice: Build a foundation of living and leading with purpose. (one 90 min 19 student section and four 60 min 4-5 student sections,once per week)
Follow up: grading, feedback, and office hours for students.
Weekly check-ins with fellow instructors and supervisor.
Your Legacy
As the world drastically changes, help young people find their path and learn to lead with conviction, curiosity, and courage.
Be a part of shaping and molding a pilot program, Global Citizen Academy, and help actualize the program's potential for young people.
Candidate Profile
Mindset
You thrive in an entrepreneurial environment. You possess a positive, can-do attitude, and are adept at identifying creative solutions that turn challenges into opportunities. You can handle many important responsibilities at once and you're rigorous about prioritization.
Students come first for you. You care deeply about each student's experience and learning outcomes. You enjoy small interactive class sessions, and deep engagement between you and students, with feedback given in both directions.
Diversity, Equity, and Inclusion is your true north. You work, reflect, and evolve to ensure that you are consistently bringing diversity, equity, and inclusion into your classroom and teaching.
You are a continuous learner. You love a new challenge to learn from. You are open to new pedagogical approaches and have a strong willingness to learn new things.
You are connected to our mission. Something in your own life experience drives your passion for Global Citizen Year's mission and vision.
The following skills and experience are required:
Documented teaching experience.
Experience facilitating classroom discussions and/or some familiarity with active engagement techniques.
Experience with interdisciplinary curricula and comfort with teaching outside one's primary expertise.
Experience teaching critical thinking and problem solving, as well as guiding students to work on project-based assignments.
The skills and ability to quickly learn and become comfortable with new technology platforms.
The following skills and experience are preferred:
Experience with online facilitation
Experience working with highschool or college students
International work experience
Ph.D. or Masters degree
Multilingual
Position Details
Compensation: Competitive compensation based on which course and number of sections you teach.
Location: All classes are taught on a technology platform, you have complete flexibility to teach at Global Citizen Academy via computer from any geographic location where there are good internet connections.
Start Date: August 3, 2020
Application Details
To apply: Please submit the following:
Resume that outlines your relevant experience.
A cover letter that includes why you believe you would be a good fit to be an instructor for Global Citizen Academy and your connection to Global Citizen Year's mission.
References should include people who can attest to the quality of your teaching, your general quality of mind, and your openness to new pedagogical approaches.
Indicate how you learned of the opening.
For More Information:
Visit the Official Webpage of the Global Citizen Academy Instructor