How technology is helping African farms to flourish By Emma Reynolds
A farmer's fortunes bloom and wither with the seasons. It can be precarious work, and a bad year can leave fields barren and grain sheds empty — slim pickings on which to survive until the next harvest.More than half of working Africans have jobs in agriculture, but poor infrastructure, inadequate tools and a lack of investment have left the continent's mostly small-scale farms struggling to feed a growing population. Now, a wave of technological solutions is aiming to help.
Flying to the rescue
In Ghana, a company called Acquahmeyer rents out drones that help small-scale farmers check the health of crops and use pesticide only where it is needed, reducing pollution and health risks."Ghanaian vegetables were not making it to the EU countries because of pesticide residues on the fruit and vegetables," says chief operations officer Kenneth A. Nelson. With drones, farmers can identify pests and disease to determine exactly which crops need spraying, Nelson says. Thanks to the reduced use of chemicals (pesticide use dropped 50 percent in some cases), it's easier for farmers to meet EU countries' regulatory limits.
Acquahmeyer's drones check leaf color and soil quality, producing reports on the crop's health.Acquahmeyer is now working with 8,000 farmers, who pay $5 to $10 per acre, about 6 times a year, to assess their crops and soil and apply pesticides. Eachdrone costs $5,000 to $15,000 to build and can spray 10,000 acres a year. The company started in June 2018 with two drones and now has 10. It makes an annual profit of $15,000 to $30,000 per drone, after operations and administration costs. With more than 15 million hectares (37 million acres) of agricultural land in Ghana, demand for drones is only growing, says Nelson.
Acquahmeyer's strategy of training locals to pilot and repair the aircraft is helping fuel interest in the company and its growth, says Nelson. "In every farming community we have ambassadors for our company who are pilots and we are creating jobs," he says. "We want to make sure that technology and agriculture becomes an exciting job."
Urban farming
In Uganda, urban development has been blamed foreating into agricultural land just as population growth is boosting demand for food. More than 1.6 million people live in the capital, Kampala, where levels of malnutrition are rising, according to the United Nations. To combat the problem, some city dwellers are growing their own food and selling it.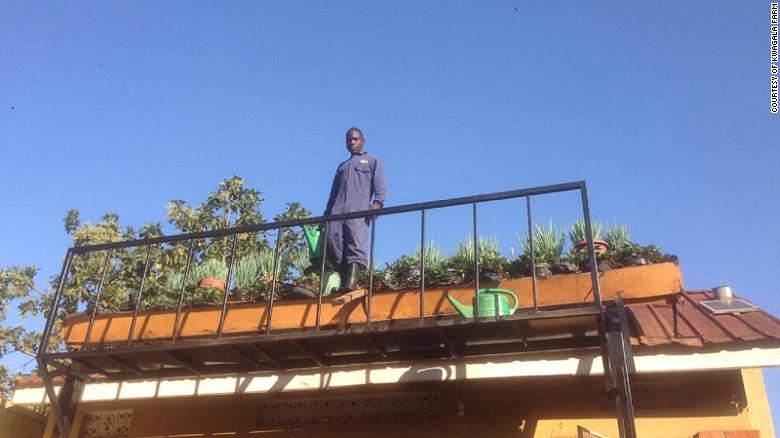 In Kampala, Uganda, city dwellers are taught to grow produce on their rooftops.Diana Nambatya Nsubuga, who has a Ph.D. in public health, opened Kwagala Farm with her husband in their half-acre backyard in Kampala in 2010. She used her profits to expand and to begin providing affordable training on "urban farming" — with sessions on growing crops in spaces like tires, pipes, wooden shelves or apartment rooftops as well as classes on raising poultry. Nsubuga says she started out with a packet of tomato seeds worth 50 cents. "When we started making good income, we decided to diversify beyond just tomatoes to other vegetables" like cabbages, carrots, and spinach, she says.
The couple bought 10 chickens and two cows. Disposing of cow dung became a problem, so they installed a biogas plant to convert it to electricity for lighting and cooking. Waste from the biogas plant, called bio slurry, was turned into organic fertilizer to sell to other urban farmers.Kwagala Farm now makes a profit of $60,000 a year, with about 80 percent coming from fertilizer sales. Nsubuga has invested in machines that should allow her to increase production from one ton to 20 to 25 tons a month.Of the 1,800 people she's trained, half now have their own urban farms, Nsubuga says. The farms generate an average of $5,000 a year, she says, a nice addition to urban farmers' salaries. The average annual income in Uganda is $660, according to the latest data from the International Labour Organization. Nsubuga aims to train a further 2,000 farmers by the end of 2020.
Weathering the seasons
Esther Usman, from Kaduna State, Northwest Nigeria, has been growing maize since she was 17, when she dropped out of school to support her family after her father's death.Two decades on, she was struggling. She often lay awake at night worrying about how to feed and educate her children. At times, money ran so low that she was forced to sell her crop for a pittance."If my farm was affected by pests, I could only afford to buy a small amount of (pesticide), which was usually not effective," says Usman, now 38. And since maize in storage is often lost to moisture, pests or fungi, she said storing maize after harvesting was a problem.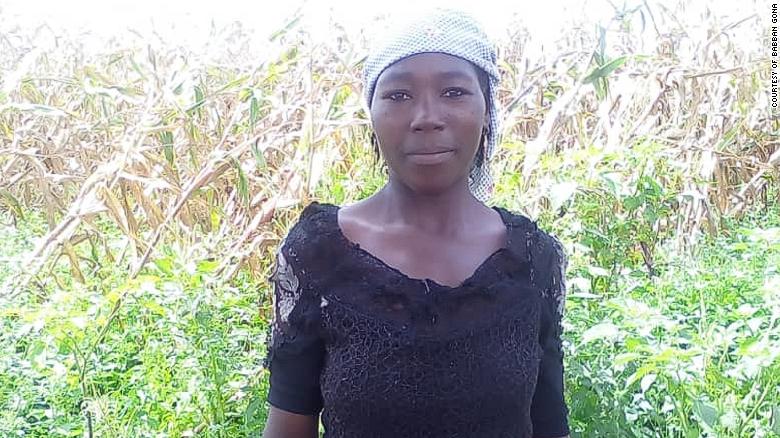 Esther Usman, a farmer in Nigeria, uses a credit network to buy seeds in the dry months and sell her crops for the best price.In 2017, Usman joined Babban Gona, a social enterprise that acts as a farmers' cooperative and offers small-scale farmers loans, credit, training and other support. It launched in 2012 with 102 farmers, and now works with 20,000.
Field officers employed by Babban Gona photograph its farmers' fields. An app reviews the photos, evaluating the germination rate and seeing if the soil needs nutrients based on leaf colors. The field officers step in to alert farmers of any problems they find and advise on possible solutions. Some farmers have increased their yields by 50 percent. Once the maize is harvested, Babban Gona stores it in sealed containers and aims to sell it in bulk at the right time to maximize the farmers' profits.
The quarterly payments Usman receives from Babban Gona allowed her to invest in a cow and a grinding machine, to buy new clothes for her family, and to build a house. "[It] helps me to pay for some things during the dry season when there isn't a lot of money around," she says. "I also don't have to struggle for capital during the next farming season." Usman says the money is helping to keep her children in school, and she hopes they may one day become doctors, lawyers or teachers.
SOURCE: CNNBUSINESS